Front end Developer Course In Hyderabad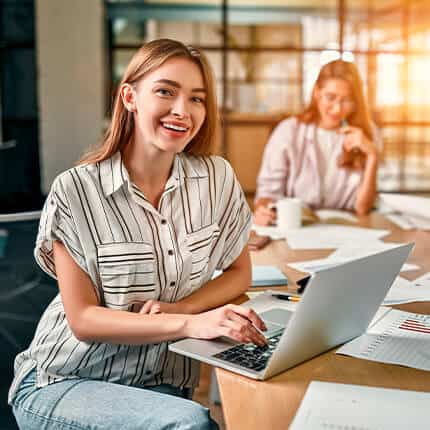 Front end Developer Course Schedule
Front end Developer Course in Hyderabad Syllabus
Specificity

Tag selector

ID Selectors

Class Selectors

Grouping Selectors

Universal Selector

Descendant / Child Selectors

Attribute Selectors

CSS – Pseudo Classes

Maps
For
For in
While
Do While
For of
Default parameters
Async – Await

Learn the building blocks of web development by mastering HTML and CSS, the essential tools for creating stunning websites that captivate users


Dive into the world of JavaScript and unlock the power to add interactivity and dynamic functionality to your websites

Flexible Learning Options
Discover how to design websites that seamlessly adapt to different screen sizes and devices,  

Industry Ready Curriculum
Experience a hands-on approach to learning with interactive exercises, quizzes, and real-world projects that allow you to apply your knowledge and build practical skills

Interactive doubt sessions
Learn from industry experts and gain insights into the latest trends, techniques, and best practices in Front End Development, ensuring you stay ahead in this fast-paced field.

Receive personalized mentorship and support from experienced instructors who are dedicated to helping you succeed and reach your full potential as a Front End Developer

Community Driven Learning
Understand how to create websites that prioritize the needs and expectations of users, delivering a seamless and enjoyable browsing experience for all.

Flexible Learning Sessions
Build an impressive portfolio of projects throughout the course, showcasing your skills and demonstrating your ability to create visually stunning and functionally rich websites.

Enhance your creativity and design skills by exploring concepts like color theory, typography, and layout, enabling you to create visually appealing websites that stand out from the crowd.
What is Front End Development ?
At Mule Masters, the objectives of our Front End Developer Course in Hyderabad are centered around equipping learners with the necessary skills and knowledge to succeed in this dynamic field. Throughout the course, learners will be supported by experienced instructors and will have the opportunity to collaborate with peers, ensuring a holistic and immersive learning experience. Here are the key objectives of our course:
Who should learn Front End Developer ?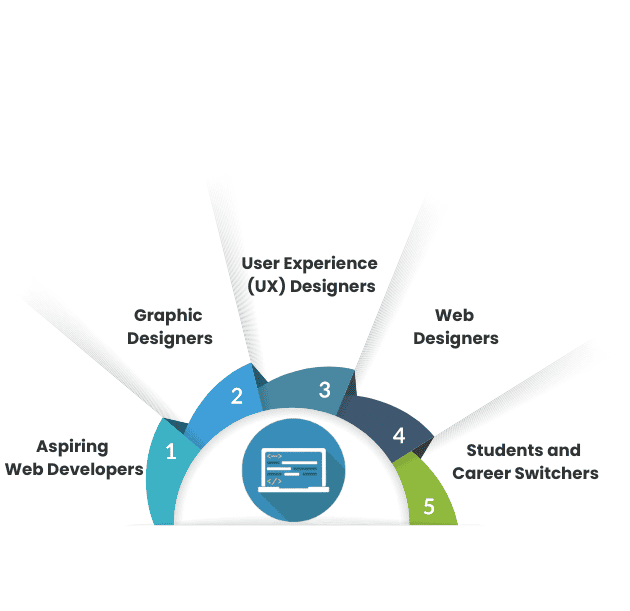 Building the Basics: HTML and CSS Fundamentals
Making it Interactive: JavaScript Essentials
Responsive Design: Crafting for All Devices
Mastering the Art of Libraries and Frameworks
Optimizing Performance: Speed Matters
Version Control and Collaboration GitHub
Our Front End Developer Course in Hyderabad is designed to provide you with the essential skills and knowledge needed to excel in this field. In this course, you will learn the core concepts of HTML, CSS, and JavaScript, which are the building blocks of web development. From creating visually appealing layouts to adding interactivity and functionality to your websites, you will gain the expertise required to create engaging user experiences.
What sets our Front End Developer course in Hyderabad apart is the focus on practical learning. With hands-on assignments, real-world examples, and projects, you will have the opportunity to apply your knowledge and develop your skills. Our experienced instructors will provide personal guidance and support to ensure your success throughout the course. Front-End Developers enjoy a plethora of placement opportunities in today's job market. With businesses of all sizes seeking to enhance their online presence, Front-End Developers are in high demand. From dynamic tech giants to innovative startups, the need for individuals skilled in crafting visually appealing and user-friendly interfaces ensures a wide array of placement possibilities. As a Front-End Developer, you have the chance to contribute to diverse projects, making a meaningful impact on the digital landscape.
Front end Developer Course in Hyderabad
As a Front-End Developer, you shape the way people experience the internet. You're the artist behind the website canvas, ensuring users have a visually pleasing and intuitive journey.
Companies are on the lookout for Front-End Developers with the skills to create modern websites. Your ability to make things look good is a hot commodity in the job market.
Your skills are needed everywhere. Whether it's a tech giant revamping its interface or a small startup establishing its online presence, Front-End Developers are sought after across diverse industries.
Your role bridges the gap between design and functionality. You collaborate closely with designers to bring visions to life and work hand-in-hand with Back-End Developers to ensure seamless features.
There's always something new to learn. From adopting the latest frameworks to staying updated on design trends, being a Front-End Developer means embracing a journey of continuous learning and growth
Remote Work Opportunities
Many companies now embrace remote work, offering you the flexibility to code from the comfort of your home or a cozy coffee shop. Front-End Developers often enjoy the freedom to choose their workplace.
Skills Developed Post Front End Developer
Expand your skill set by learning back-end development, which involves server-side programming and database management
Combine front-end and back-end skills to become a full-stack developer capable of building entire web applications.
Learn tools like Git to manage code repositories and collaborate effectively with other developers.
Explore techniques for improving website performance, such as optimizing loading times and reducing resource usage.
Enhance your understanding of web security to protect websites from potential threats and vulnerabilities.
Dive deeper into UX principles to create more user-friendly and intuitive web interfaces.
Master popular JavaScript frameworks like React, Angular, or Vue.js to create dynamic and interactive web applications.
Develop skills in testing and debugging to ensure the reliability and functionality of your web projects.
Certifications – Front End Developer.
Professional certifications in Front-End Developer are valuable credentials that demonstrate your expertise to potential employers or clients. They not only showcase your knowledge but also keep you updated with the latest industry standards and best practices. Whether you're just starting in the field or looking to advance your career,

these certifications can help you stand out and make a positive impact in the web development industry. Certifications in Front-End Development come in various flavors, catering to different aspects of web development. From the foundational HTML and CSS to the dynamic JavaScript and responsive design,these certifications offer a clear path to showcase your skills. Rohan Joshi
Mule Masters' Front-End Developer training in Hyderabad is a comprehensive and engaging program. The curriculum covers the latest technologies and industry best practices. The hands-on projects provided practical experience, making the learning journey enjoyable and impactful. This training has significantly elevated my skills and confidence in front-end development. Naina Choudhary
I had an amazing experience with Mule Masters' Front-End Developer training. The trainers are experts in their field, delivering dynamic and interactive sessions. The course structure is well-designed, incorporating real-world projects that simulate on-the-job challenges. This training not only sharpened my technical skills but also gave me the confidence to tackle complex front-end development tasks. Varun Mehra
Enrolling in Mule Masters' Front-End Developer training program was a wise decision. The curriculum goes beyond the basics, delving into advanced topics and emerging technologies. The trainers are highly knowledgeable and provide personalized guidance. This training has been instrumental in enhancing my skill set, making me well-equipped for the dynamic world of front-end development. Pooja Bhatia
Mule Masters' Front-End Developer training is a perfect blend of theory and practice. The emphasis on real-world applications through projects and case studies provided invaluable practical insights. The trainers are not just instructors but mentors who genuinely care about your learning journey. I am grateful for the skills gained and the supportive environment at Mule Masters. Sameer Kapoor
Mule Masters' Front-End Developer training stands out for its industry-relevant curriculum. The program covers the latest trends and technologies in front-end development. The hands-on labs and projects mimic real-world scenarios, ensuring that graduates are well-prepared for the challenges of the workplace. I highly recommend Mule Masters to anyone looking for top-notch front-end development training. Anika Singh
The Front-End Developer training at Mule Masters not only equips you with technical skills but also introduces you to a supportive learning community. The collaborative projects and peer interactions enhance the overall learning experience. The sense of camaraderie among participants and instructors creates an environment where everyone is invested in each other's success.
Front end Developer Course
Enhanced User Experience​
Front end developer focuses on creating intuitive and user-friendly interfaces that enhance the overall user experience, resulting in increased engagement and satisfaction.
Increased Website Performance​
Front end developer techniques such as optimizing code and improving loading times can significantly improve website performance, leading to faster page load times and better conversion rates.
Front end development ensures that websites are responsive and compatible with various devices, including smartphones and tablets, allowing users to access content seamlessly on any device.
Well-implemented front end development practices can greatly improve a website's search engine optimization (SEO), making it more discoverable and improving its rankings in search engine results.
Front end developers ensure that websites are compatible with multiple browsers, allowing users to access and navigate websites efficiently, regardless of their preferred browser.
By following accessibility guidelines, front end developers make websites accessible to individuals with disabilities, ensuring equal access to information and services for all users.
Market Trend - Front End Developer
With the increasing use of mobile devices, responsive design remains a prominent trend. Front-end developers are in high demand to ensure websites and applications adapt seamlessly to various screen sizes, offering an optimal user experience.
PWAs are gaining popularity due to their speed and offline capabilities. Front-end developers are at the forefront of this trend, creating web applications that feel and function like native apps.
SPAs have become more common, providing a smooth, uninterrupted user experience. Front-end developers are using frameworks like React and Angular to build SPAs that load content dynamically without page refreshes.
The importance of web accessibility is growing. Front-end developers are focusing on creating inclusive designs and coding practices to ensure that websites are usable by everyone, including those with disabilities.

We have a team of skilled and experienced instructors who are passionate about teaching front-end development. They'll guide you through the learning process, providing you with real-world insights and practical knowledge.

Our training program focuses on hands-on experience. You won't just learn theories; you'll actually build websites, create interactive features, and work on projects to apply what you've learned.

We keep our curriculum current with the latest trends and technologies in front-end development. You'll learn the tools and skills that are in demand in the industry today.

Supportive Learning Environment
We provide a supportive and friendly learning environment where you can ask questions, collaborate with fellow students, and receive guidance when you need it. Your success is our priority.

We go the extra mile to help you kickstart your career in front-end development. From resume building to job search tips, we'll assist you in your journey toward becoming a professional front-end developer.

Flexible Learning Options
We understand that everyone's schedule is unique. That's why we offer flexible learning options, including online courses and part-time classes, so you can choose what works best for you and your lifestyle.
Frequently asked Questions ?