React Training in Hyderabad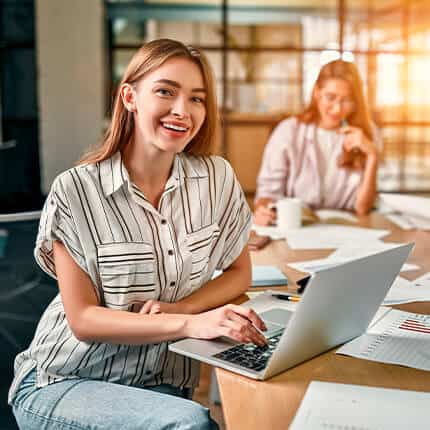 React Training in Hyderabad
React Training in Hyderabad Course Syllabus
Specificity

Tag selector

ID Selectors

Class Selectors

Grouping Selectors

Universal Selector

Descendant / Child Selectors

Attribute Selectors

CSS – Pseudo Classes

Classes

Maps
Sets
Modules
Rest or spread operator
For
For in
While
Do While
For of
Object  destructing 
Default parameters
Promises
Async – Await


Real Time Expert Trainers
Our React Training program covers all the essential concepts and techniques needed to become proficient in React, ensuring you have a strong foundation.


Project Scenarios Explained
We emphasize practical exercises and real-world projects, allowing you to apply your knowledge immediately and gain valuable experience.

Flexible Learning Options
Our team of instructors consists of industry professionals who have a deep understanding of React and are skilled at explaining complex concepts in a simple and engaging manner.

Industry Ready Curriculum
We create an interactive and collaborative learning environment, encouraging active participation and fostering a sense of community among learners.

Interactive doubt sessions
Through our partnership with Mule Masters, you'll have access to a supportive community of like-minded individuals who share your passion for learning React.

We offer both online and offline training options, allowing you to choose the format that best fits your schedule and learning preferences.

Community Driven Learning
Our curriculum is regularly updated to reflect the latest trends and advancements in React, ensuring that you learn the most current and relevant techniques.

Flexible Learning Sessions
The training includes hands-on projects that simulate real-world scenarios, providing you with practical experience and boosting your confidence.

Even after completing the training, we provide ongoing support and resources to help you continue your learning journey and stay updated with the latest React developments.
The objectives of React, in collaboration with Mule Masters, are to provide individuals with a solid understanding of React and empower them with the skills and knowledge needed to excel in React development. Through our partnership with Mule Masters, we aim to achieve these objectives by fostering a supportive community of learners and providing opportunities for collaboration, feedback, and continuous improvement. Here are the key objectives we aim to achieve:
React Training in Hyderabad
Introduction to React course
We'll help you set up your development environment so you can start coding with React. 
React is all about building reusable components.
Understanding how to manage the state and pass data between components is crucial.
An overview of the ITIL framework and its components
you'll work on a practical project that ties together everything you've learned.
With our experienced instructors and the support of the Mule Masters community, you'll have everything you need to succeed and thrive in the exciting world of React development. Our  React js training in hyderabad, in collaboration with Mule Masters, is designed to cater to individuals of all levels of expertise in a warm and inclusive learning environment.
One unique aspect of our react js online training in hyderabad is our partnership with Mule Masters. Mule Masters is a vibrant and supportive community of learners with a shared goal of becoming proficient in React. Through collaboration and peer-to-peer support, Mule Masters creates an environment that fosters growth and encourages individuals to excel in their learning journey. The demand for React developers is high, and with the increasing adoption of React in the industry, there are abundant placement opportunities available. Companies of all sizes and industries are seeking skilled React developers to build modern and user-friendly web applications. By mastering React, you can unlock a wide range of job opportunities and secure placements in top organizations.
React js training in hyderabad
React is widely used in front-end development, and mastering it can lead to job opportunities as a front-end developer, where you can create user interfaces and build engaging web applications.​
With React, you can bring designs to life and create interactive user interfaces. This skill set opens doors to UI/UX developer roles, 
Create custom solutions and applications on the ServiceNow platform. You'll be the innovator, building tools to make work more efficient
React Native, a framework based on React, allows you to build native mobile applications. Learning React can lead to opportunities as a mobile app developer, creating cross-platform mobile apps using JavaScript.​
As a UI/UX designer, React skills allow you to prototype and design interactive interfaces more effectively. You'll be better equipped to communicate your design vision to developers.
React Native, a framework built on React, enables you to develop mobile applications for iOS and Android. With React skills, you can explore careers in mobile app development, expanding your horizons even further.
Skills Developed Post React Training
Building on your React knowledge, mastering advanced JavaScript concepts like closures, promises, and asynchronous programming
Explore more advanced state management libraries like Redux or MobX to efficiently handle complex data and application states.
Learn about routing in web applications with libraries like React Router to create multi-page applications and handle navigation effectively
Develop skills in integrating APIs, including REST and GraphQL, to fetch and manage data in your applications.
Acquire expertise in testing your React components and applications using tools like Jest and Enzyme for better code quality and reliability.
Learn techniques for optimizing your application's performance, such as code splitting, lazy loading, and memoization.
Explore SSR with frameworks like Next.js to improve SEO and overall user experience for your React applications.
Enhance your front-end development skills by delving into responsive design and CSS frameworks like Bootstrap or Material-UI
Certifications – React Js
Professional certifications in React and related fields offer a clear path to showcasing your expertise and enhancing your career opportunities. A React Developer Certification is perfect for those who want to specialize in creating web applications using React. if you aspire to be a full-stack developer, you can explore certifications that encompass both front-end and back-end technologies.

For the creative minds passionate about design, UI/UX Design Certifications that include React provide the perfect blend of aesthetics and functionality. Mobile App Developer Certifications often focus on React Native, allowing you to craft mobile applications for iOS and Android. Additionally, a Web Development Master Certification is an all-encompassing option for those who want to become proficient in various web development technologies, including React Priya Patel
I highly recommend Mule Masters for react js training institute in hyderabad The curriculum is well-structured, covering everything from the basics to advanced topics. The trainers are patient, knowledgeable, and always willing to clarify doubts. The practical focus of the training ensures that you gain the skills necessary for real-world React development. Ravi Kumar
Mule Masters' React Training in Hyderabad is an absolute game-changer. The trainers are not just experts; they are passionate about React development. The hands-on projects and real-world examples provided a solid understanding of React concepts. I feel confident and ready to tackle any React project after completing this training. Ananya Gupta
I can't express how pleased I am with Mule Masters' React Training in Hyderabad. The curriculum is well-paced, and the trainers are both knowledgeable and approachable. The emphasis on practical learning, with a focus on industry best practices, makes this training relevant and immediately applicable to real-world React projects. Arjun Sharma
Choosing Mule Masters for React Training was a wise investment in my career. The trainers' expertise, combined with the hands-on labs and real-world projects, created a dynamic learning experience. The post-training support from Mule Masters is commendable, showcasing their commitment to the success of their students. I'm now equipped with the skills to excel in React development. Preeti Menon
Mule Masters' React Training is a comprehensive program that covers all aspects of React development. The trainers are not only experts but also industry professionals with a wealth of experience. The training strikes the right balance between theory and hands-on practice. I feel well-prepared to embark on a successful career in React development. Vikram Desai
Enrolling in Mule Masters' For Best react js training in hyderabad was a wise decision for my career. The trainers' expertise and the interactive learning environment made the complex world of React development accessible. The real-world projects provided hands-on experience, making this training invaluable for anyone looking to master React in a professional setting.
React Training in Hyderabad
Completing the course will open doors to exciting career opportunities in web development, design, and more, helping you advance in your professional journey.
Learning React equips you with a skill in high demand in the tech industry, making you a valuable asset to employers seeking proficient developers and designers.
The course emphasizes hands-on learning, allowing you to work on real projects and gain practical experience that you can showcase in your portfolio.
React provides a platform to bring your creative ideas to life. You'll have the tools to design and build interactive and visually stunning web applications.
React is versatile and can be used in various projects, from websites to mobile apps. This flexibility ensures that the skills you acquire can be applied to a wide range of projects.
You'll be part of a community of learners, and we'll provide support throughout your learning journey, including assistance with job searching and networking opportunities.
MuleSoft holds a 41.37% market share overall.
Rising Popularity React continues to grow in popularity and is widely used by companies of all sizes. Its strong community support and developer-friendly features have contributed to its widespread adoption.
React Native, a framework based on React, has gained traction for mobile app development. Many businesses are leveraging its cross-platform capabilities to reach a broader audience efficiently.
 As React remains a dominant player in web development, there is a consistent demand for skilled React developers. Job opportunities in this field are abundant, and salaries are competitive.
 React is often used alongside various backend technologies, making it a crucial part of full-stack development. Understanding React can open up diverse career opportunities, including full-stack roles.

Our React training program is led by experienced instructors who are passionate about teaching. They have a deep understanding of React and can guide you through the learning process with patience and expertise.

We believe in learning by doing. Our training emphasizes hands-on, practical exercises and projects, ensuring you gain real-world skills and experience in React development.

Supportive Learning Environment
We foster a supportive and collaborative learning environment. You'll be part of a community of learners, where you can ask questions, seek help, and share your experiences with fellow students.

Our curriculum is regularly updated to reflect the latest trends and best practices in React development, ensuring you learn the most relevant skills for the job market.

We understand that everyone has different schedules and learning preferences. Our training offers flexibility with various learning options, including online classes, self-paced learning, and personalized mentoring.

We don't just stop at teaching React; we also provide career support. Our goal is to help you kickstart or advance your career, offering guidance on job searching, interview preparation, and networking opportunities within the industry.
Frequently asked Questions ?