AWS DevOps Training in Hyderabad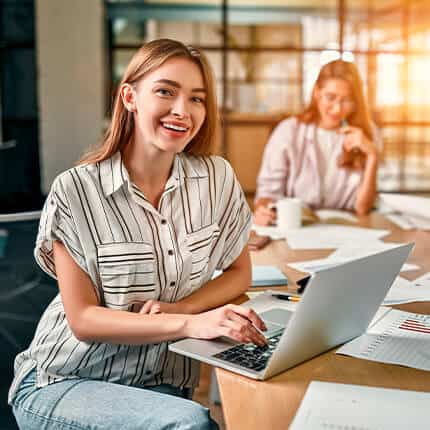 AWS DevOps Training in Hyderabad Course Syllabus


Real Time Expert Trainers
Our AWS DevOps course with Mule Masters starts with the fundamentals, making it accessible even if you're new to AWS.


Project Scenarios Explained
Discover how to integrate AWS services with MuleSoft, empowering you to create seamless, connected applications.

Flexible Learning Options
Get hands-on practice with AWS tools, so you can confidently apply what you learn in real-world scenarios.

Industry Ready Curriculum
Collaborate with experienced Mule Masters who are there to guide you every step of the way.

Interactive doubt sessions
Understand CI/CD pipelines to automate software delivery and deployment processes.

Learn how to manage your infrastructure using code, making it more efficient and scalable.

Community Driven Learning
Explore techniques for monitoring your AWS environment and troubleshooting any issues that may arise.

Flexible Learning Sessions
Gain insights into AWS security measures to protect your applications and data.

Discover how to design and build applications that can scale easily and handle failures gracefully.
AWS DevOps Training in Hyderabad
We understand the importance of setting clear objectives for our AWS DevOps course to ensure our students get the most out of their learning experience. We are dedicated to providing you with the knowledge, skills, and hands-on experience you need to succeed in this dynamic and exciting field.Here are the key objectives that our course aims to achieve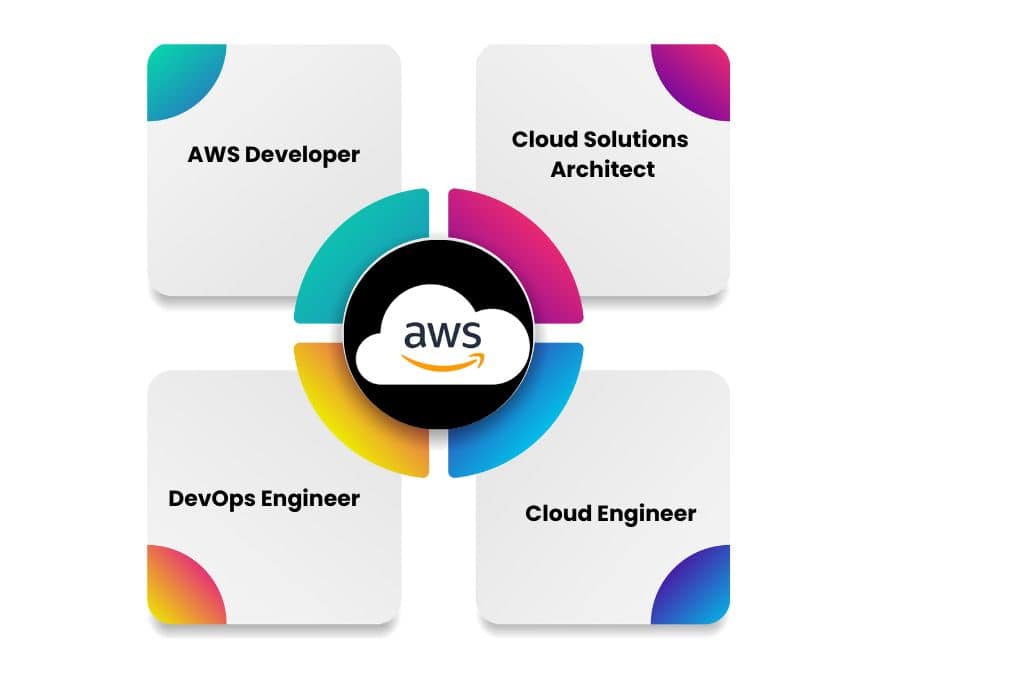 Pre-Requisites of AWS DevOps
 Familiarity with core AWS services like EC2 (Elastic Compute Cloud), S3 (Simple Storage Service), RDS (Relational Database Service)
 These tools allow you to define and provision infrastructure using code, enabling automation and version control.
Proficiency in using version control systems (e.g., Git) is important. Version control helps manage and track changes to code, configurations, and infrastructure.
Who should learn AWS DevOps ?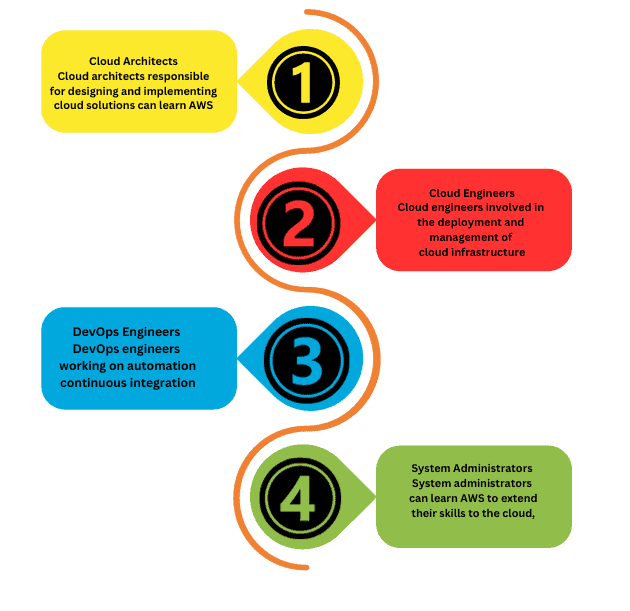 Begin by understanding the basics of Amazon Web Services (AWS), the cloud platform that powers modern DevOps practices.
Explore how to integrate AWS services with MuleSoft for building robust and connected applications.
Learn how to set up Continuous Integration and Continuous Deployment (CI/CD) pipelines to automate software delivery and updates.
Dive into the concept of managing infrastructure as code, making it more efficient and adaptable to your project needs.
Focus on AWS security best practices and building resilient applications that can handle challenges effectively.
Apply your newfound knowledge through hands-on projects and practical exercises to prepare for real-world scenarios.
You will have the chance to learn from business professionals at our AWS DevOps course in Hyderabad, who will provide you with the information and abilities required to be successful in this rapidly evolving industry. Our course is designed to fit your needs, regardless of whether you are a seasoned expert or are just getting started in the technology sector. Join our community in Hyderabad to learn how to improve your software development and delivery processes by automating, streamlining, and utilizing the power of AWS. 
Led by industry experts, our AWS DevOps course will take you through the fundamentals of DevOps and introduce you to the powerful features of Amazon Web Services (AWS). From infrastructure as code and continuous integration to monitoring and security, you will gain a deep understanding of the tools and techniques that will enable you to automate and streamline your software delivery processes. AWS DevOps Training in Hyderabad
Companies across industries are increasingly adopting cloud technology and DevOps practices, creating a growing need for skilled AWS DevOps professionals. With the right certifications and practical experience, you can explore job roles such as DevOps Engineer, Cloud Architect, Site Reliability Engineer, and more. These roles offer competitive salaries, career growth, and opportunities to work with cutting-edge technologies.
AWS DevOps professionals are in high demand because they bridge the gap between development and operations, a critical need in modern tech companies.
With the demand for AWS DevOps skills, you can expect competitive salaries and attractive compensation packages.
AWS DevOps expertise opens doors to various roles, such as DevOps engineer, cloud architect, system administrator, and more.
These skills are in demand worldwide, providing opportunities for global career mobility and remote work.
The field is constantly evolving, making it an exciting choice for those who love learning and staying updated with the latest tech trends.
Contribution to Innovation
As an AWS DevOps professional, you'll play a crucial role in accelerating innovation by facilitating faster and more reliable software development and deployment.
AWS DevOps Training in Hyderabad
Skills Developed Post AWS DevOps
Advanced AWS Proficiency: Enhance your expertise in Amazon Web Services, including services like EC2, S3, and Lambda.
Containerization: Learn containerization technologies like Docker and container orchestration with Kubernetes.
Scripting and Coding: Improve your scripting and coding skills with languages like Python and Bash to automate tasks.
Infrastructure as Code (IaC): Master IaC tools such as Terraform and CloudFormation for automated infrastructure management.
Continuous Integration/Continuous Deployment (CI/CD): Gain in-depth knowledge of CI/CD pipelines and tools like Jenkins and GitLab.
Security Best Practices: Develop skills to ensure the security and compliance of AWS environments.
Monitoring and Analytics: Learn how to use tools like AWS CloudWatch and ELK Stack for monitoring and analytics.
Troubleshooting: Hone your problem-solving abilities to identify and resolve issues quickly and efficiently.
Certifications – AWS DevOps Training
In the world of AWS DevOps, professional certifications can greatly enhance your career. The AWS Certified DevOps Engineer certification is tailored to DevOps practitioners, emphasizing resource management, CI/CD, and application deployment. The AWS Certified SysOps Administrator certification is ideal for those focused on operational tasks, system monitoring, and ensuring security and compliance. Although not DevOps-specific, the AWS Certified Solutions Architect certification covers architectural principles relevant to DevOps, while the AWS Certified Developer certification provides a solid foundation in application development. Additionally, the AWS Certified Security - Specialty certification is essential for those who need to ensure the security and compliance of their DevOps deployments. Rajat Verma
Enrolling in the AWS DevOps training at Mule Masters was a game-changer for me. The comprehensive curriculum and hands-on experience provided me with the skills and confidence to excel in the field. The trainers are experts in their domain, and the practical approach to learning made all the difference. I feel truly satisfied and empowered with the knowledge gained from this program. Diya Desai
I had a fantastic experience with Mule Masters' AWS DevOps training. The learning environment is exceptional, with state-of-the-art facilities and top-notch instructors. The course structure is well-designed, covering all aspects of AWS DevOps in-depth. The hands-on labs and real-world scenarios made the learning process engaging and effective. I highly recommend Mule Masters for anyone serious about mastering AWS DevOps. Aditya Reddy
Mule Masters' AWS DevOps training exceeded my expectations. The trainers not only possess deep knowledge of AWS and DevOps but also have a unique way of imparting practical insights. The emphasis on real-world scenarios and projects helped me apply the concepts in a meaningful way. This training has been invaluable in advancing my career, and I'm grateful for the skills gained at Mule Masters. Ishita Gupta
The AWS DevOps training at Mule Masters stands out for its expert guidance and unwavering support. The trainers are not just knowledgeable but also approachable, always ready to clarify doubts and provide additional assistance. The hands-on labs and collaborative projects foster a dynamic learning environment. Mule Masters has truly been instrumental in shaping my understanding of AWS DevOps. Vikram Malhotra:
Mule Masters' AWS DevOps training is a career-boosting experience. The comprehensive coverage of AWS services and DevOps practices, combined with practical implementation, equips you for real-world challenges. The training has not only enhanced my technical skills but also opened up new opportunities in my career. I'm grateful for the support and guidance received at Mule Masters. Meera Khanna
I am incredibly impressed with the commitment and expertise of the instructors at Mule Masters. The AWS DevOps training was delivered with a genuine passion for the subject, and the results speak for themselves. The comprehensive curriculum, coupled with the dedication of the trainers, has empowered me with the skills needed to thrive in the dynamic field of AWS DevOps.
Enhanced Career Prospects
You'll learn how to troubleshoot, improve processes, and ensure the efficient deployment of software and applications, boosting your problem-solving capabilities.
You'll gain practical knowledge and hands-on experience, allowing you to apply DevOps practices in real-world scenarios.
Certification Preparation
The course prepares you for AWS DevOps certifications, validating your expertise and giving you a competitive edge in the job market.
Increased Earning Potential
With AWS DevOps skills, you can earn higher salaries due to the demand for professionals who can bridge the gap between development and operations.
The skills you acquire in this course can be applied in various industries, making you versatile and adaptable to changing job markets.
Problem-Solving Abilities
Completing this course can open doors to a wide range of high-demand IT positions, boosting your career opportunities.
Market Trend in AWS DevOps
AWS DevOps is experiencing rapid adoption across industries, as organizations seek to enhance software development and deployment efficiency.
The job market for AWS DevOps professionals is growing, with companies actively seeking individuals who can bridge the gap between development and operations.
Automation is a key focus in the market, as organizations look to streamline processes, reduce manual work, and ensure faster, more reliable deployments.
The market is moving toward cloud-native solutions, with AWS being a popular choice, to enable scalable, resilient, and cost-effective applications.

Our training is led by experienced AWS DevOps professionals who bring real-world insights to your learning journey.

You'll gain practical experience through hands-on labs and projects, ensuring you can apply what you learn.

We offer flexible schedules and online options, so you can learn at your own pace and from anywhere in the world.

Our training prepares you for AWS DevOps certification exams, boosting your career prospects.

We provide one-on-one guidance and support to help you succeed and overcome any challenges you may encounter.

Join our community of learners and connect with like-minded individuals, fostering collaboration and growth.
Frequently asked Questions ?