Snowflake Training In Hyderabad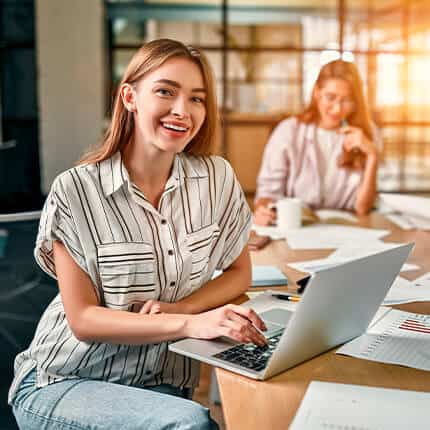 Snowflake Training in Hyderabad Course Syllabus


Unlocking Snowflake's Power
Snowflake Course Training with Mule Masters is designed to help individuals gain the skills and knowledge needed to work effectively with Snowflake, 


The training program is suitable for professionals like database developers, data engineers, data analysts, and IT professionals 

Essential Snowflake Skills
It covers important topics such as Snowflake architecture, data warehousing best practices, SQL querying, data loading, data modeling,

The trainers at Mule Masters are experts in the field with extensive experience working with Snowflake, providing learners with valuable insights and guidance

The training program offers a hands-on, practical approach with exercises and real-world projects, allowing learners to gain practical experience

Mule Masters provides flexible training options, including classroom training, online training, and customized on-site training, catering to individual preferences and organizational needs

Upon successful completion of the training, learners receive certifications, enhancing their professional profile and validating their skills in working with Snowflake

Snowflake Course Training with Mule Masters helps professionals stay updated with the latest industry trends and advancements in data warehousing and analytics.

The training program equips learners with the expertise to effectively manage and analyze large amounts of data, making them invaluable assets to organizations
Snowflake Training in Hyderabad
Snowflake is a data warehousing platform hosted in the cloud, designed to empower businesses in the efficient management and analysis of their data. The platform's key goals encompass delivering accessibility, scalability, security, high performance, user-friendliness, and cost-effectiveness in data warehousing and analytics services. By doing so, Snowflake aims to assist businesses in making informed decisions and attaining their objectives.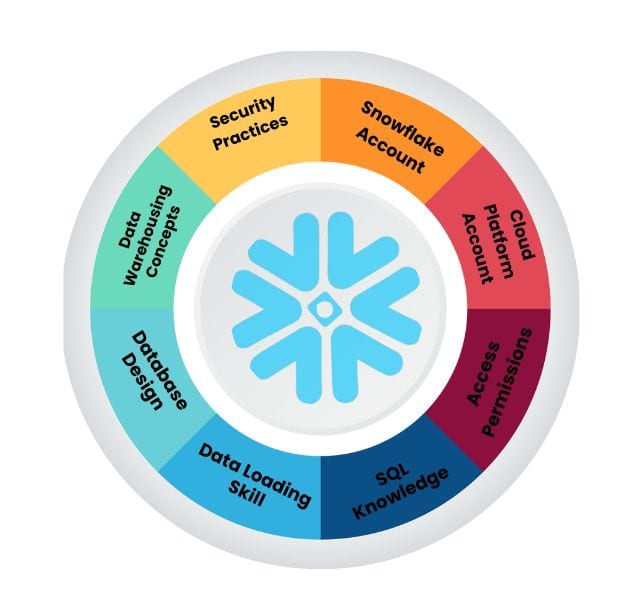 Pre-Requisites of Snowflake Course
Data-Driven Mindset:A human touch in learning Snowflake involves recognizing the impact of data on decision-making and business outcomes. 

Collaboration and Communication Skills:Effective collaboration and communication are essential prerequisites for learning Snowflake. 

Understanding of Business Context:Before delving into the technical aspects of Snowflake, having an understanding of the business context is crucial.
Who should learn Snowflaks?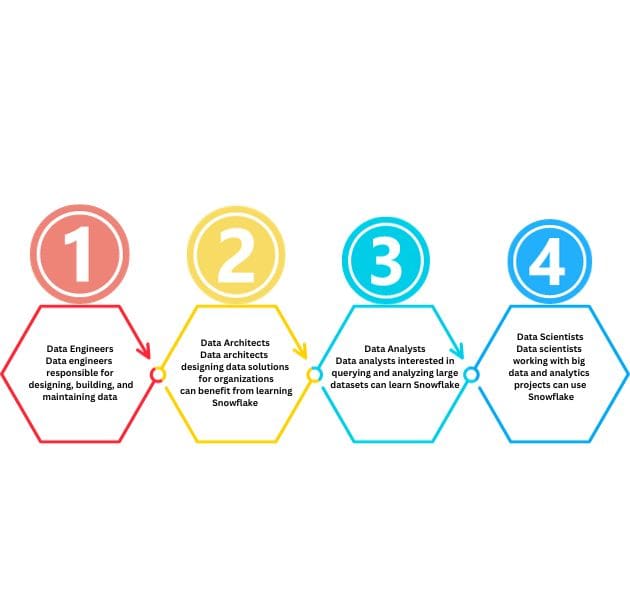 Understanding the basics and architecture
Learn how to load and manage data in Snowflake
Master SQL for querying and analyzing data in Snowflake
Explore security features and best practices
Techniques for optimizing query and data performance
Dive into advanced Snowflake features and real-world use cases
Snowflake provides cloud-based data warehousing that enables advanced solutions for organizational storage, handling, and analysis. Its unique characteristics include high speed, ease of use, and versatility making it stand out from other conventional offerings.Reporting and data warehousing are integral parts of any organization's IT infrastructure.
To take on these tasks, Snowflake leverages the functionality of an innovative SQL query engine with a flexible architecture natively established for the cloud.This approach enables users to easily customize and start creating ready-to-query tables with little or no administration costs. Snowflake provides exceptional placement opportunities, linking you to meaningful job placements across various industries. Proficiency in Snowflake can pave the way for gratifying positions as an administrator, developer, or consultant. Given its widespread adoption, Snowflake unlocks avenues for diverse and rewarding careers, enabling you to make a positive impact on organizations and communities.
Become the go-to person for managing Snowflake in your organization. You'll handle configurations, user access, and system maintenance
Help users with IT issues and incidents using Snowflake. You'll be the problem-solving hero who ensures smooth operations
Create custom solutions and applications on the Snowflake platform. You'll be the innovator, building tools to make work more efficient
Advise companies on how to best use Snowflake to improve their processes. You'll be the trusted expert guiding businesses to success
Snowflake Project Manager
Lead teams in implementing and optimizing Snowflake solutions. You'll be in charge of making sure projects are on track and achieving goals
Design complex Snowflake solutions and integrations. You'll be the visionary creating the blueprint for a seamless and efficient workplace
Skills Developed Post (Snowflake)
Acquire comprehensive understanding of the Snowflake platform, encompassing its diverse modules and functionalities.
Master the effective navigation and utilization of Snowflake's user-friendly interface through our training.
Grasp best practices in change and release management to seamlessly implement updates and changes with precision.
Acquire skills in designing and managing a service catalog to elevate user experience through our training.
Cultivate expertise in crafting and overseeing service request items and workflows through our training program.
Acquire proficiency in the effective management of user access, roles, and permissions through our training.
Master creating custom applications to meet your organization's unique needs with our training.
Personalize the Snowflake Service Portal for a user-friendly self-service experience through our training.
Snowflake Training in Hyderabad Certifications
Elevate your IT career with MuleMaster's Snowflake certification training. Our courses equip you with the skills needed to excel in exams, ensuring success and career advancement. Receive a recognized completion certificate, valued by top companies, giving you a competitive edge in the job market. Your pathway to success starts here. Jayaram
Mulemasters' Snowflake training in Hyderabad transformed my understanding of cloud-based data warehousing. The trainer's expertise and engaging teaching style made the complex concepts easy to grasp. I highly recommend this training to anyone seeking to enhance their data warehousing skills. Sai
I had little familiarity with data warehousing systems before enrolling in Mulemasters' Snowflake course. However, the extensive curriculum and the trainer's patient assistance helped me rapidly obtain a good grasp of Snowflake's design, features, and functions. I am confident in my abilities to use Snowflake for data warehousing jobs. Avesh
Mulemasters' Snowflake training left an impression on me. From data modeling and data loading to advanced query optimization techniques, the course covered a wide variety of subjects. The hands-on exercises were challenging but rewarding, and they helped me solidify my understanding of Snowflake's potential. Sahil
Mulemasters' Snowflake training was a great way to learn how to leverage Snowflake's powerful features for data warehousing and analytics. The trainer's enthusiasm and expertise were evident, and they were always willing to go the extra mile to help students succeed. The supportive learning environment encouraged asking questions and collaborating with fellow students. Nikhil Kumar
I highly recommend Mulemasters' Snowflake training to anyone who wants to gain proficiency in Snowflake for data warehousing and analytics. The training is well-structured, the trainer is knowledgeable and experienced, and the hands-on projects provide valuable practical experience. I am confident that the skills I gained from this training will be a significant asset in my career. Sunny
Snowflake training from Mulemasters was an excellent investment in my professional growth. The course taught me a lot, and I am now confident in utilizing Snowflake for data warehousing and analytics activities. I would strongly suggest this programme to anyone looking to improve their data warehousing skills.
Enhance your career opportunities in the dynamic realm of data management and analytics by mastering Snowflake.
Acquire the expertise to efficiently manage and analyze data, empowering you to make well-informed decisions.
Elevate your data proficiency with Snowflake training, enhancing your confidence and making you a valuable asset to your organization.
Apply your learning through hands-on projects and labs, gaining practical, real-world experience.
Expand your professional network by engaging with like-minded individuals in the training community. Connect and collaborate for mutual growth and learning.
Take advantage of job placement support to secure a data-related position in Hyderabad or beyond, ensuring career success.
Market Trend in Snowflake
MuleSoft holds a 41.37% market share overall.
The adoption of Snowflake has surged, with businesses of various sizes acknowledging its significance in data management and analytics.
The market trend indicates a movement toward cloud-based data warehousing, and Snowflake stands out as a key player in this domain.
More companies are prioritizing data-driven decision-making, creating a growing demand for platforms like Snowflake that can help them harness the power of their data
Snowflake persists in innovation amid competition from other cloud data warehousing solutions, presenting exciting possibilities and choices for businesses.

Gain insights from certified trainers with extensive experience and expertise in Snowflake technology.

Acquire hands-on, real-world experience through practical labs and projects.

Tailored to your specific needs, our training ensures you learn what is most relevant to your goals.

Benefit from adaptable training schedules designed to accommodate your availability and learning pace.

Leverage our job placement assistance to initiate your career in data and analytics with confidence.

Become a part of a supportive learning community and receive continuous assistance even beyond the conclusion of the training.
Frequently asked Questions