Embedded Course In Hyderabad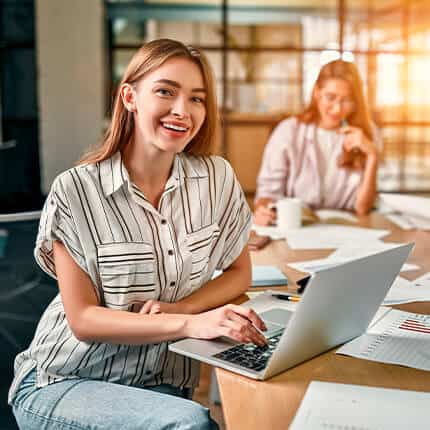 Embedded course in Hyderabad
Embedded course in Hyderabad
Embedded Course in Hyderabad


Real Time Expert Trainers
Mule Masters offers a comprehensive course on Embedded Systems that is designed to be easy to follow and understand.


Project Scenarios Explained
In this course, you will learn about the theory behind Embedded course in Hyderabad and their practical applications in different industries.

Flexible Learning Options
Our experienced instructors will guide you through the course with personalized attention and support.

Industry Ready Curriculum
Upon completion of the course, you will have a solid foundation in Embedded Systems principles and will be able to apply them to real-world projects.

Interactive doubt sessions
The course is suitable for beginners as well as professionals who want to expand their knowledge in Embedded Systems.

Practical Skill Development
Develop practical skills that empower you to contribute effectively to the creation of innovative embedded systems, enhancing your employability.

Community Driven Learning
You will gain hands-on experience with different hardware and software tools commonly used in Embedded Systems design.

Flexible Learning Sessions
We offer flexible options for learning, including online and in-person classes.

Our curriculum is constantly updated to include the latest trends and technologies in Embedded Systems design.
What is Embedded course ?
Embedded Course in Hyderabad
The objectives of an Embedded Systems course are like a roadmap for students to explore the fascinating world of tiny computer systems hidden in everyday devices. Here are six key points to help you understand what this course aims to achieve: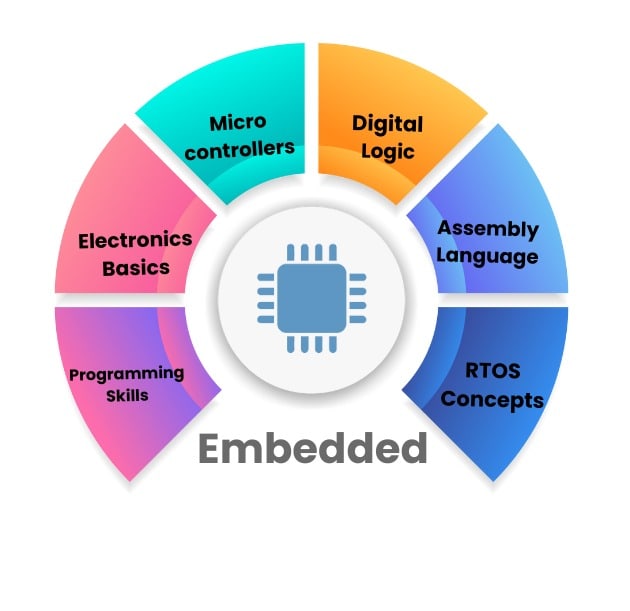 Pre-Requisites of the Embedded Course
Basic Programming Knowledge: Familiarity with languages like C or C++ is often required, as these are commonly used in embedded systems development.
A grasp of basic electronics concepts, such as circuits, components, and microcontrollers, can be beneficial in understanding how embedded systems work.
Problem-Solving Skills: As embedded systems often involve troubleshooting and optimizing code and hardware to make devices function efficiently.
Who should learn (Embedded)?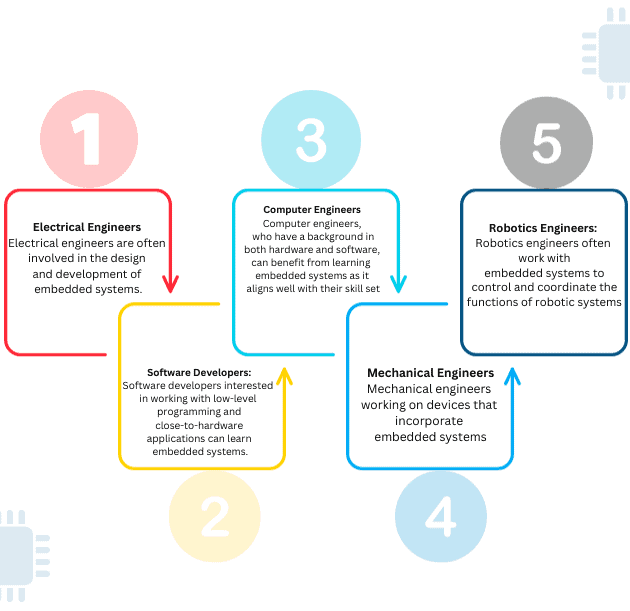 Embedded Course in Hyderabad
Introduction to Embedded Systems: Unveiling the Tech Marvels
Microcontroller Basics: The Brain of Embedded System
Introduction to ITIL concepts, processes and terminology
Introduction to ITIL concepts, processes and terminology
Real-time Operating Systems (RTOS): Ensuring Precision in Action.
Embedded Systems in the Real World: Bringing Concepts to Life
Embedded Systems Training, in collaboration with Mule Masters, is here to provide you with a transformational learning experience in the exciting world of embedded systems. We understand that learning complex technologies can be daunting, which is why we have created a training program that is designed to be simple, practical, and centered around you as an individual.
Our Embedded Course In Hyderabad is to empower learners from all walks of life to master embedded systems development. Whether you are a student, a working professional, or simply passionate about electronics, our courses are tailored to suit your needs. With experienced instructors, hands-on projects, and a supportive community, we create an inclusive and engaging learning environment that encourages growth and fosters creativity. Embedded Training in Hyderabad
Placement Opportunities Embedded Course
Placement opportunities for individuals with skills in Embedded Systems are abundant and diverse. Industries like electronics, automotive, medical devices, and IoT are actively seeking professionals in this field. Whether you aspire to work on autonomous vehicles, smart healthcare solutions, or innovative gadgets, there are ample opportunities for a rewarding career in Embedded Systems. These roles often offer job security and the chance to be at the forefront of technology.
Embedded Course in Hyderabad
Embedded systems specialists are like magicians who bring gadgets to life. They design, develop, and maintain the tiny brains inside devices, opening doors to jobs in electronics and hardware.
For those who enjoy coding and making software that interacts with real-world objects, careers in software development with a focus on embedded systems are a perfect fit.
If you're passionate about building robots that can navigate, interact, and perform tasks, a career in robotics, which heavily relies on embedded systems, is your calling.
The automotive industry offers exciting roles for embedded systems experts, creating everything from self-driving cars to advanced engine control systems.
Embedded systems play a vital role in medical devices, making healthcare smarter and more efficient. Careers in this field involve designing devices that can save lives.
The Internet of Things (IoT) is the future, and embedded systems professionals are at the forefront. They connect everyday objects to the internet, creating smart homes, cities, and more.
Embedded Course in Hyderabad
Gain in-depth knowledge of the Embedded platform, including its various modules and functionalities.
Learn how to navigate and use Embedded user-friendly interface effectively.
Understand change and release management best practices to implement updates and changes smoothly
Learn how to assess risks, plan, and execute changes without affecting operations.
Learn to design and maintain a service catalog that enhances user experience.
Develop skills in creating and managing service request items and workflows
Learn how to manage user access, roles, and permissions effectively
Gain the ability to create custom applications tailored to your organization's unique needs.
Certifications – Embedded Training
Obtaining these certifications not only enhances your skills but also demonstrates your commitment to the field. They can open doors to a wide range of job opportunities and help you stand out in a competitive job market.Professional certifications in Embedded Systems validate your expertise and open doors to various career paths.

They not only enhance your skills but also make you more attractive to potential employers. Whether you're interested in IoT, automotive technology, or healthcare, there's a certification tailored to your passion and career goals in the world of embedded systems.
Embedded Training in Hyderabad Ravi Kumar
Mulemasters' Embedded Course in Hyderabad is outstanding. The comprehensive coverage of embedded systems, hands-on projects, and expert guidance from the instructors provided a strong foundation. I am grateful for this valuable learning experience that has equipped me with the skills needed for a successful career in embedded systems. Ramya
Enrolling in Mulemasters' Embedded Course was a transformative decision. The well-structured curriculum, practical labs, and the industry-relevant projects made learning embedded systems both engaging and insightful. I now feel confident in my ability to design and implement embedded solutions. Thank you, Mulemasters! Ashish Verma
The Embedded Course at Mulemasters exceeded my expectations. The hands-on approach, real-world applications, and the guidance from knowledgeable instructors have been invaluable. This course not only broadened my understanding of embedded systems but also provided practical skills crucial for the industry. Highly recommend it! Nihal
Choosing Mulemasters for the Embedded Course was a wise decision. The trainers' expertise, coupled with hands-on labs, provided a dynamic and engaging learning experience. The emphasis on both theory and practical application has prepared me well for the challenges of embedded systems development. Thank you, Mulemasters!" Sanjay Desai
I am thoroughly impressed with Mulemasters' Embedded Course in Hyderabad. The well-structured modules, practical exercises, and the guidance from experienced instructors make this course stand out. I feel well-prepared to embark on a successful career in embedded systems development. Kudos to Mulemasters!" Karun
Mulemasters' Embedded Course is exceptional. The hands-on experience, industry insights, and the commitment of the instructors to student success make this course highly recommended. I now have the confidence and skills needed to excel in the field of embedded systems.
Embedded Training in Hyderabad
Unlocking Everyday Technology
Learning Embedded Systems helps you uncover the magic behind the gadgets you use daily, making you more tech-savvy and curious about how things work.
It opens doors to exciting career opportunities in industries like electronics, automotive, healthcare, and more, making you a sought-after professional.
The course enhances your problem-solving abilities, making you a resourceful thinker, capable of tackling real-world challenges effectively.
You can unleash your creativity by inventing smart devices, robots, or IoT solutions, transforming your imaginative ideas into reality.
In a world increasingly reliant on technology, skills in Embedded Systems provide job security as these professionals are always in demand.
You'll be able to create solutions that improve daily life, whether it's a home automation system or a medical device, making you a tech-hero in your own right.
Embedded Course in Hyderabad
The integration of Embedded Systems with the Internet of Things (IoT) is a major trend. More devices and systems are becoming interconnected, driving the demand for embedded solutions that can support these connections.
AI and machine learning are increasingly being incorporated into embedded systems to enhance their capabilities. This trend enables devices to become smarter, offering more personalized and efficient services.
With the rise of connected devices, there's a growing focus on the safety and security of embedded systems. This trend includes implementing robust cybersecurity measures and safety standards, especially in industries like automotive and healthcare.
Energy-efficient embedded systems are gaining popularity due to environmental concerns and the need for longer battery life in portable devices. The market is moving towards solutions that maximize performance while minimizing power consumption.
Why choose Embedded Course

We offer a unique and personalized learning experience that sets us apart from other training programs.

Flexible Learning Options
We provide a supportive learning environment with experienced instructors, practical projects, and real-world examples. 

We also understand that everyone has different learning styles and pace, which is why we offer customizable courses that cater to your needs. 

Each course is designed to be beginner-friendly and accessible, making it possible for anyone to join and learn regardless of their background.

Our training program is also affordable and flexible, allowing you to balance your career, education, and other life commitments. 

Choosing us for your embedded systems training will provide you with the skills, knowledge, and confidence to succeed in your career, and your personal life. 
Frequently asked Questions?