Business Analyst Course In Hyderabad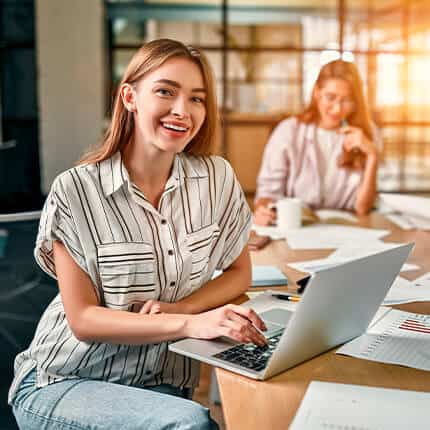 Business Analyst Course Schedule
Business Analyst Course Curriculum


Our Business Analyst Course in Hyderabad at Mule Masters covers all the essential topics, ensuring that you gain a thorough understanding of business analysis principles and techniques.


Learn from industry experts who have real-world experience in business analysis and problems, providing you with valuable insights and practical knowledge.

Our course emphasizes hands-on learning, with plenty of case studies and projects that allow you to apply your newly acquired skills in real-life scenarios.

We value each student's learning journey and provide personalized attention and support to ensure that you grasp the concepts effectively.

We understand that your time is valuable, which is why we offer flexible scheduling options to accommodate your busy lifestyle while still allowing you to excel in the course.

Our course materials are designed to be engaging and easy to understand, making your learning experience enjoyable and enriching.

Connect with like-minded individuals, industry professionals, and potential employers through our community of students and alumni, expanding your professional network.

Strategic Career Planning
Receive personalized career guidance and support from our team, helping you navigate the job market and make the most of your business analyst certification.

At Mule Masters, we believe that learning is a continuous journey. Gain access to our resources and updates even after completing the course, keeping your skills updated.
What is Business Analyst ?
The Business Analyst Course in Hyderabad at Mule Masters aims to empower individuals with the necessary skills and knowledge to succeed in the field of business analysis. The course is designed to provide a holistic learning experience, combining theoretical concepts with practical application, to prepare students for the challenges and opportunities faced by business analysts in their professional journey.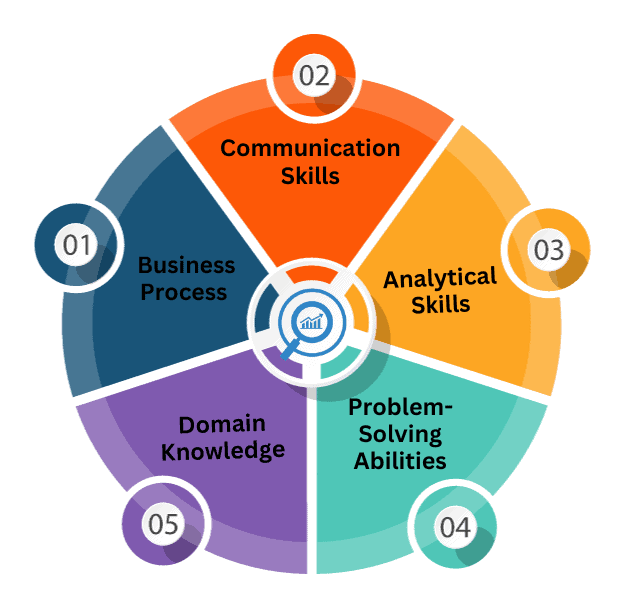 Pre-Requisites of the Course
A solid foundation in business concepts and a basic understanding of the role of a business analyst is required to get the most out of our course at Mule Masters
Effective communication is crucial for a business analyst. The ability to articulate ideas clearly and listen actively is essential for success in this field.
A knack for problem-solving and analytical thinking is important for a business analyst. We will help you enhance these skills throughout the course
Who should learn Business Analysis ?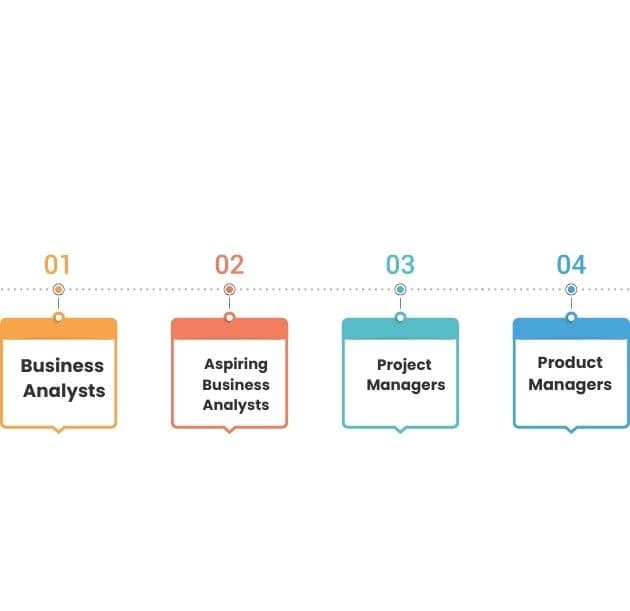 Understanding Business Analysis The Navigator's Role
Requirement Gathering Listening to the Business Story
Data Analysis for Decision-Making Decoding the Numbers
Process Improvement Sculpting Efficiency
Communication and Stakeholder Management Building Bridges
Project Management Essentials Guiding the Path to Success
About Business Analyst Course
Mule Masters offers an exceptional Business Analyst Course in Hyderabad, providing individuals with comprehensive training and hands-on experience. The Business Analyst Course is taught by industry professionals who have extensive experience in the field. These expert instructors bring real-world insights and practical knowledge to the classroom, ensuring that students receive the highest quality of education.
Mule Masters understands the importance of a strong start to a successful career. They offer dedicated job placement assistance to students, helping them find suitable job opportunities in the business analysis field. With their network of industry connections, Mule Masters works closely with students, supporting them in their job search and providing guidance on interviews and resume preparation. Business Analyst Course in Hyderabad
Placement opportunities for Business Analysts are abundant, with a strong demand across various industries.

Companies seek skilled professionals to bridge the gap between business goals and technology solutions. 

This role often leads to diverse career paths, including project management, data analysis, and process improvement. With the right qualifications and experience, Business Analysts can find promising placement options in both established organizations and emerging startups.
Business Analysts are in demand in various industries such as healthcare, finance and more. You can choose a field with your interests.
As a Business Analyst, you get to solve real-world problems. Your work directly impacts a company's success and can lead to innovative solutions.
The need for Business Analysts is steadily growing. Companies rely on their skills to make informed decisions, which means job security in this profession.
You can explore different roles within Business Analysis, from data analysis to project management.
Skilled Business Analysts are highly sought after. This can lead to competitive salaries and opportunities for career growth in your own interests.
Business Analysis skills are transferable across borders, allowing you to work in various countries and experience diverse cultures.
Skills Developed Post in Business Analysts
Depend on your data analysis skills to provide more sophisticated insights for decision-making.
Acquire project management skills to lead and oversee business analysis projects effectively.
Master Agile and Scrum methodologies to excel in fast-paced, collaborative work environments.
Focus on industry-specific knowledge to become a subject matter expert in your chosen field.
Enhance your communication skills for more effective collaboration with diverse stakeholders.
Pursue additional certifications, such as PMP, for broader career opportunities as a Business Analyst.
Develop data visualization skills to convey complex information in a more understandable an unique way.
Learn change management techniques to guide organizations through transitions.
Certifications – Business Analyst course in Hyderabad
Among the top certifications, the Certified Business Analyst Professional (CBAP) and Certification of Competency in Business Analysis (CCBA) from the International Institute of Business Analysis (IIBA) are widely respected, catering to different experience levels. If you're inclined toward project management, the PMI Professional in Business Analysis (PMI-PBA) from the Project Management Institute is an excellent choice.

For those who have a strong interest in data and analytics, the Certified Analytics Professional (CAP) by INFORMS might be the right path. Additionally, Agile certifications, such as Certified ScrumMaster, can be beneficial in Agile work environments commonly associated with Business Analyst roles. Karthik Sharma
@username
Mule Masters' Business Analyst Course has been a turning point in my career journey. The comprehensive curriculum covers a wide array of topics, from data analysis to strategic planning. The instructors are not just experts in their fields but also effective communicators, making complex concepts easy to grasp. The practical projects and case studies provided real-world insights, preparing me for the dynamic challenges of business analysis. I'm grateful to Mule Masters for equipping me with the skills needed to excel in this role. Siddharth
@username
Transitioning from an IT role to business analysis seemed daunting, but Mule Masters made it seamless. The course structure is tailored for professionals with diverse backgrounds, providing a solid foundation in business analysis principles. The emphasis on communication skills and stakeholder management was particularly beneficial. Mule Masters not only filled the gaps in my knowledge but also boosted my confidence to take on a business analyst role. I highly recommend this course for anyone looking to make a career shift. Ramesh
@username
As a recent graduate, I was unsure about the practical aspects of business analysis. Mule Masters' Business Analyst Course not only provided theoretical knowledge but also allowed me to apply it through hands-on projects. The mentorship and career guidance services were invaluable, helping me secure a business analyst position even before completing the course. Mule Masters has been a stepping stone for my career, and I'm excited about the possibilities ahead. Divya
@username
Enhancing my analytical skills was a priority in my career development plan. Mule Masters exceeded my expectations with their Business Analyst Course. The curriculum is designed to cater to professionals with varying levels of experience, diving into advanced concepts and industry best practices. The practical workshops and collaboration with peers provided a holistic learning experience. Mule Masters has empowered me to bring a data-driven approach to decision-making in my organization. Anusha
@username
As a finance professional looking to transition into business analysis, Mule Masters provided me with the perfect launchpad. The course content is not only robust in business analysis methodologies but also includes industry-specific applications. The instructors were supportive and approachable, making the learning experience engaging. Mule Masters has equipped me with the skills needed to analyze financial data strategically, opening new doors in my career. Jagan
@username
As an entrepreneur, understanding data and making informed decisions is crucial. Mule Masters' Business Analyst Course offered me valuable insights into leveraging data for business growth. The practical exercises, especially focused on business intelligence and reporting, were directly applicable to my venture. Mule Masters has empowered me to make data-driven decisions that have positively impacted the trajectory of my business.
Completing a Business Analyst Course increases your chances of securing job opportunities in the business analysis field.
Increased earning potentia​l
By completing this course, you'll enhance your career prospects, open up new job opportunities, and potentially increase your earning potential.
The course boosts your confidence to approach business challenges and present your analysis and recommendations with conviction
The course equips you with a comprehensive set of business analysis skills, including requirements gathering, data analysis, and process improvement.
Improved problem-solving skills​
The course hones your analytical thinking and problem-solving abilities, enabling you to tackle complex business issues
Enhanced communication skills​
You develop effective communication techniques, enabling you to interact with stakeholders and convey ideas more efficiently
Market Trend in Business Analysts
MuleSoft holds a 41.37% market share overall.
Business Analysts are increasingly required to have strong data analytics skills. Companies are relying on data-driven decision-making, and Business Analysts play a crucial role in interpreting and utilizing data effectively.
Many organizations are shifting to Agile methodologies for project management. Business Analysts need to adapt to this trend and work closely with cross-functional Agile teams to enhance project efficiency and flexibility.
The demand for Business Analysts is on the rise due to the ongoing digital transformation of businesses. They are needed to bridge the gap between technology and business goals, ensuring a successful transition to digital platforms.
The COVID-19 pandemic has accelerated the acceptance of remote and hybrid work models. Business Analysts are now required to effectively communicate and collaborate with teams and stakeholders in virtual settings, making remote work skills essential.

Our trainers are experienced experts in SailPoint, ensuring you learn from the best in the field.

We offer practical, real-world scenarios and hands-on exercises, allowing you to apply what you learn directly.

Our training programs can be tailored to your skill level and career goals, ensuring you get the most relevant and valuable education.

Join a community of like-minded learners and instructors who are here to support your journey and answer your questions.

We provide career guidance and job placement support, helping you take your SailPoint skills to the next level.

Our training is designed to fit your schedule, whether you're a full-time professional or a busy student, making it accessible to everyone.
Frequently asked Questions ?